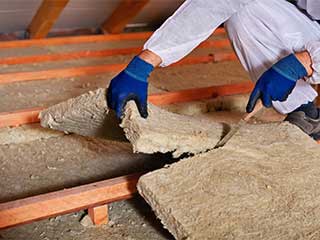 When it comes to improving the energy-efficiency of your home, upgrading the attic is probably the last thing that would spring to mind, right? Well, you may be surprised to find out that a well-insulated attic can save you up to 35% warm and cool air loss during extreme weather. What's more, sufficient insulation improves the overall comfort of your home, keeps the room temperatures balanced, and minimizes health risks to you and your family. What does all of that has to do with insulation removal? Good question!
If your current insulation is worn, old, chipped, or contaminated – you don't get to enjoy all of the above and worse – it might be unhealthy for you and your family.
Safe and Efficient Insulation Removal
Our team possesses extensive experience and knowledge in removing contaminated and damaged insulation. Our technicians are highly-trained in their usage of specialized equipment that is necessary for a safe and effective process, as some materials can be contaminated. After the insulation has been successfully removed, your new insulation can be installed – and this is where our work continues!
New Insulation is a Worthy Investment
High quality insulation in your attic can improve the air quality inside air quality of your home, reduce energy wastage and keep the temperature balanced between rooms. No more sudden drafts, contaminated air, and sky-high energy bills. Modern insulation is far more advanced than those of some 10-15 years ago. Soon after its installation process is completed, you will notice reductions in energy costs and a higher level of comfort throughout your house.
Professional and Customer-Focused Service
At Attic Cleaning Newport Beach, we take each insulation removal task very seriously and consider the safety and comfort of your household members to be our number one priority.