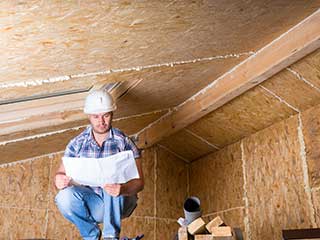 When it comes to increasing your home's energy efficiency, there isn't a place in your house that deserves more attention than the attic. Everyone knows that the hot air rises, and in those cold winter days this can result in a massive energy loss. In fact, without sufficient insulation, you could be experiencing a 35 percent heat loss during winter and fall.
Insulation Installation
You could opt to have only the floor of your attic insulated, which will help reduce heat loss from the floors below. However, a full insulation of your attic will boost the overall efficiency of your home and the roof. By going for the full insulation installation, you will soon be enjoying noticeable savings on your utility bills and increased comfort throughout the house.
Sealing the Air Leaks
When our technicians are on the scene, you can rest assured knowing the job is in safe hands. We will ensure you receive the ultimate thermal insulation by sealing all air leaks and filling all air gaps around areas that are hard to reach. This way we will minimize the amount of air that escapes your home during cool and hot days.
Radiant Barrier Installation
If your home has little or no shading from trees, has air ducts in the attic or is for any reason particularly susceptible to increased heat, a radiant barrier might be a wise choice. This new insulating technology reflects the heat back towards its source.
What Is the E-Value?
Measuring the amount of heat that has been reflected or absorbed is expressed by an E-value. A low E-value, for example, means that the material absorbs little heat and reflects a larger portion of it back to the source. Our knowledgeable team will help you make the right decision when choosing a radiant barrier suitable for your house.
Let us know how we can help you today!
We do so much more!
Attic Restoration & Animal Waste Removal
Crawl Space Waterproofing