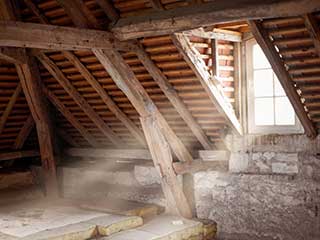 Make Your Air Cleaner
While the dust in your attic may be up where you can't see it, it can still be affecting you and cause a lot of health troubles for you and your family over time. Just the dust on its own will pollute the air, which will negatively affect those with breathing troubles like asthma. Allergies will be aggravated even indoors, and children and the elderly can also be at risk for breathing issues. Dust also incites mold, and its spores can be very dangerous if they get into the lungs. Rodents are drawn in by the mess too, and their diseased waste will infect belongings and make its way into your household if something isn't done to prevent it.
Make Your Home Safer
Your house itself will also be at risk thanks to many of these issues. The mold will eat away at everything from insulation to wood, and even your belongings. It also spreads easily and can sometimes go on unnoticed until a lot of damage has already been done. Rodents will also harm just about anything in your attic to use for nesting or gnawing, and insects may also be drawn in by this and cause further infestation. On top of all of this, your energy bill may rise because of it as well! Dust clogs up your home's ducts, which makes it much harder for air conditioning or heating to make its way through and keep things comfortable. They both run longer in order to achieve this, and thus energy and money are both wasted.
Do Something About It
Our experts are ready and waiting to give you a hand to take care of all these troubles by getting your attic fresh and clean! We use the highest quality equipment to get every nook and cranny of your attic safely cleared out of any dust, debris, or otherwise. We'll assure that none of it winds up thrown up into your air to pollute it any further as well.
Call Us Now!
Contact Attic Cleaning Newport Beach today! You'll be glad you did.
We also offer:
Air Duct Repair and Replacement
Mold Removal & Prevention
Attic Ventilation Improvements